SnB@BWH
Admin & Writer
This is an attempt at recreating one of my hallucinations I recently had when I was tripping on... Marijuana... Yes, I trip on Marijuana because it fucks with my anti-psychotic and it has been proven, because others have smoked from the same stash, that it's not laced with anything, at least not what could be causing me to trip. It's a trip like no other!
Anyways, when I was tripping, I saw this guy. He had some kind of a bird cage underneath him, hooked onto him by chains and in his left hand was a lantern. Every time I trip on this shit, I hallucinate animals or shit like this and get delusional thoughts about creation, life / death, Hell and existence.
I become so connected! I see things that would not trigger any conscious thoughts normally, but when I'm tripping on weed... HOLY FUCK! Like, one of the things I saw was a zamboni driving on ice and then just out of nowhere all these thoughts and emotions coming together as one. I know this image from somewhere; somewhere unknown. The more I think about it, the more the image and ideas associated therein morphs into something incomprehensive, until I let the thoughts flow freely and it goes in another direction.
Anyways, here's the picture. I got the name from the trip as well, shortly after this image passed, the word popped into my mind. It's a sort of Glossolalia-like term.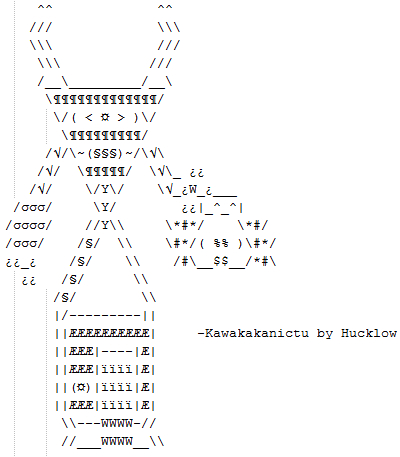 _________________